In order to be a reliable technical partner for its customers and distributors, Airtech has established training facilities.
The initial standard training programs are related to :
Prepreg / autoclave processing
Resin infusion processing
Composite Tooling
Further topics can be presented upon request.
Airtech engineers are available to offer theoretical and hands-on training courses in manufacture of composite parts utilizing our products. The training programs take account of economical and quality aspects : participants will learn how to produce high quality composite parts and reducing production time, eliminating waste and controlling cost.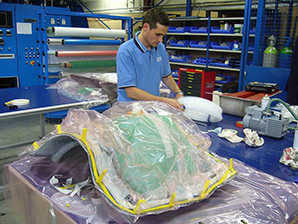 The training center includes a conference room and a composite shop. Furthermore, the recently installed and commissioned autoclave represents an important complementary tool for the training programs. It has a usable area of Ø 2 m x 2 m, is capable of achieving pressures up to 145 psi (10 bar), temperatures to 716° F (380 °C).
Airtech training department can train up to 6 people simultaneously. Please contact us for further information.
For further information on our products and services, please contact :
www.reducetouchlabor.com
www.resininfusion.com
www.peelply.com